A naturist beach or nude beach is a beach where the users generally wear no clothing. If clothing is optional then, to emphasize that, also the terms clothing-optional beach and free beach may be used. It is one of the most common and traditional forms of public nudity. Nude beaches have first become popular along the French coastline in the 1950s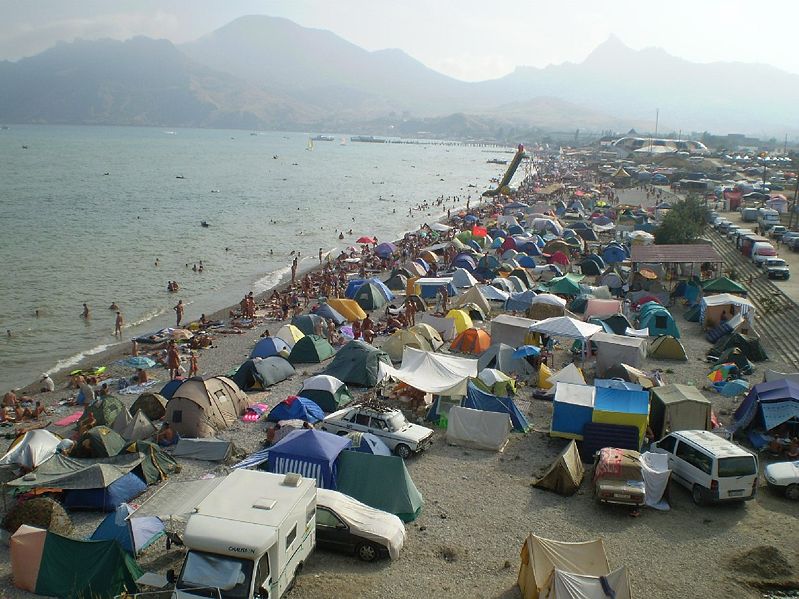 A naturist beach should not be confused with a topfree beach or topless beach, where upper body clothing is not required for women or men, although a swimming costume covering the genitals is required for both men and women.

The users of nude beaches are sometimes the target of enforcement relating to legislation banning public nudity, often because of broad language included in laws or bills intended to target sexually oriented businesses. Clothes free organizations such as the Naturist Action Committee have lobbied against such bills.

The clothes-free areas tend to be segregated or isolated physically from the non-nude areas. In other instances people maintain a comfortable space between people dressing differently. Signage is often used to inform beach visitors about what to encounter and/or to segregate different areas on the beach. This accommodates people who are not comfortable with nudity (see gymnophobia). This also accommodates beach users who do not like to be watched too much, especially by clothed individuals (see voyeurism).

Some nude beaches are part of a larger nude area. Cap d'Agde is an example.

Motivation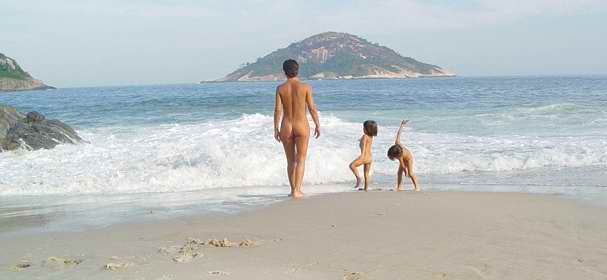 Family in Brazil, Praia do AbricóPeople visit naturist beaches for many reasons, including because they enjoy being nude or partially nude, because they enjoy looking at people who are nude, because of curiosity, because of personal philosophy, or simply because they believe that there is no reason to wear clothing (see naturism and nudism). Sunbathing with little or no clothing allows a more even sun tan, eliminating tan lines.

Terminology

Naturist beaches are variously known as "FKK" (from the German Freikörperkultur), "clothing optional" (C.O.) or "free" beaches; they are also described as being "au naturel". Though the latter term is nominally derived from French, it is not used by speakers of the language to describe nudity (in French, au naturel is used only for food cooked without preparation). In French, nude beaches are called plages nudistes "nudist beaches" or plages naturistes "naturist beaches". In British English the terms "topless beach" and "nudist beach" are most common.

Types of nude beaches
Illustration of clothing-optional beach.Most existing nude beaches have been used as such for many years and thus have become "traditionally nude". Many are "unmanaged" beach areas that have been adopted by the local users in an effort to maintain the beach's "quality". Others' right to existence has been recognized as such by one or another legislative body—municipal, regional or national, and are termed "official" (although not necessarily legitimate). One can distinguish between
different types of beaches: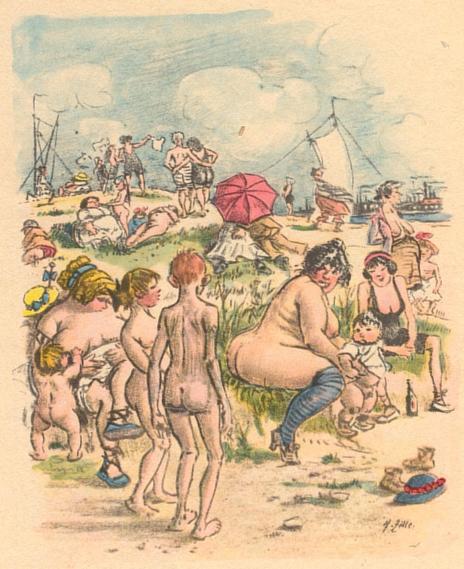 Those where nudity is illegal and/or not tolerated. Nudity may result in requests to cover up, uncomfortable glares, a fine or arrest.
Those that are unofficially tolerated by the "authorities"
"Official" nude beaches
Nudity is compulsory unless the weather is bad, etc.
Clothing is optional (i.e., nudity is permitted but not required)
Nudity is allowed as the beach is part of a private resort or other private property
Note - though private resorts and hotels may enclose their property behind fences and controlled access gates, the majority of beach-related tourist destination countries do not allow the corporate ownership of the actual beach (Examples would be islands in the Caribbean, Mexico, Florida). Thus, while the property itself can have controlled access and may set standards for clothing requirements, the beach itself remains public access and is subject to local law or common practice. A specific example of this would be the famous Seven Mile Beach in Negril, Jamaica. Though the beach is lined with private resorts with fences down to the sand/waterline, the beach (and subsequent swimming areas) are open to the public. The beach is designated as "topfree", but actual practices vary from resort to resort, and access to the beach is public along the entire seven mile stretch.
AT The End I Hope U Guys enjoyed the topic
best whishes Moe